[Ile de France] COMMUNICATE – COLLABORATE – ENGAGE – EXPERIENCE COLLABORATIVE INTELLIGENCE – 7 juin 2022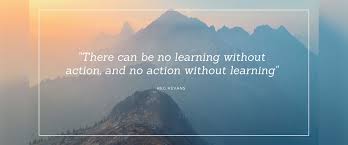 Description
Discover the Power of W.I.A.L
ACTION LEARNING
Tuesday 7th June 2022
9.00 – 12.30
Forum 104 – 104 Rue de Vaugirard, 75006 Paris
Why sign up?
Discover and then experience first-hand the magic of Collaborative Intelligence with two of our members, Kristi and Ben through the WIAL Action Learning methodology (World Institute of Action Learning). Action Learning is a problem-solving tool that develops leaders, solves problems, builds teams, improves organizational performance and transforms organizations. Action Learning involves a group of people working on real problems and learning while they do so. Learning takes place at two levels: the first level is the level of the actual problem-solving task; the second level is the level of reflection on how the group is working together. Action Learning interweaves thoroughly and seamlessly the principles and best practices of many theories from the fields of management science, psychology, education, neuroscience, political science, economics, sociology, and systems engineering.
This half-day workshop is broken down into two parts:
One-hour session:
Presentation of the Methodology, Components, Phases & Rules
Ninety-minute session:
Participation in 90-minute Action Learning sessions
Thirty-minute session:
Debrief the Action Learning session
What's the take-away?
Benefits: Participants
Understand the methodology behind Action Learning by experiencing a session
Leverage creativity & innovation when working with Groups/Teams
Build more collaboration & trust within the teams/companies you work for
Have learners become experts in question formation & active listening
In line with what people are looking for especially "Millennials"
AI-proof learning
Installing a culture of "bienveillance"
Supporting HR with new tools
Optimizing time spent in meetings
**Leveraging the power of collective intelligence**
Benefits: Action Learning
Discover the "Team Management Tool" of the 21st century (Business Week)
Try a quick & creative way to find solutions to complex, important and relatively urgent problems
Develop collective & individual communication and leadership skills
Work on real problems, take action and learn from the group
Think critically & work collaboratively
Reflect on the advancement of the Group's functioning
Become an effective leader as you solve difficult problems
The main objective of this workshop is to …
Experience first-hand the primary benefits of Action Learning, namely, Problem Solving, Leadership Development, Team Building, and Coaching competence.
Learning outcomes covered in the course:
Developing competencies involving individual and group skills and knowledge. Individually, group members learn such skills as critical reflection, inquiry and questioning, systems thinking, active listening, self-awareness, empathy, problem-solving, decision making, presenting and facilitating. Leadership skills are another important set of skills learned through Action Learning. For instance, Action Learning initiatives help group members build leadership skills such as Emotional Intelligence, consisting of five primary abilities: self-awareness, managing emotions, motivating oneself, empathy, and handling relationships.
Le nombre de places étant limité à 16, il est recommandé de s'inscrire rapidement.
Inscription obligatoire sur le site de l'ICF France
Membres ICF 45€ (

remember to enter the site with your password to get this price

)
Non-membres 65€
ICF Paris International is an English-language initiative by ICF Chapter Paris Ile de France. The events aim at creating an opportunity for the international coaching community to get together in Paris. Internationally renowned and diverse guest speakers are invited to share trends, best practices, methodologies, and tools with the coaching community in France. The events are open to all nationalities, to both ICF members and non-members.
We welcome your contributions to making our events successful. Please contact one of our ICF Paris International team members within our chapter to share your suggestions, contacts and proposals:
Julie Cummings-Debrot, Agnieszka Carvalho, Manuela Marquis & Annabelle Mangin international.idf@coachfederation.fr